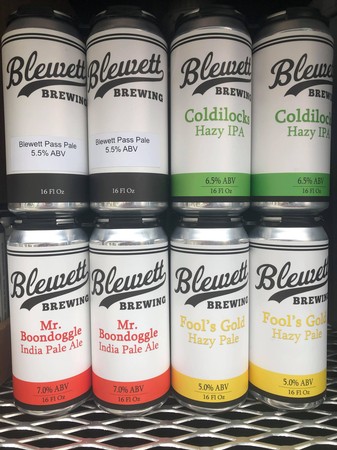 Fresh from Leavenworth, get you a taste of this small gem!
Mixed 4 pack includes one of each
Blewett Pass Pale-
ABV: 5.5% IBU: 40
Classic American Pale
(Bright citrus, floral
Hops: Simcoe, Loral, Centennial)
Fools' Gold Hazy Pale-
ABV: 5.0% IBU: 30
(Passion Fruit, White wine
Hops: Nelson Sauvin, Mosaic)
Coldilocks Hazy IPA-
ABV: 6.5% IBU: 30
(Ripe Fruits, Berries, Mango
Hops: Mosaic, Belma)
Mr. Boondoggle IPA-

ABV: 7% IBU: 60
West Coast IPA
(Crisp, Grapefruit, Pine.
Hops: Citra, Simcoe, Mosaic)
5-7% ABVs. Available at your local DROP now. .