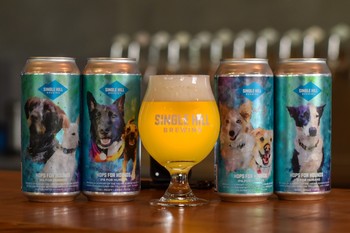 Hops for Hounds is a collaborative fundraising effort for the Yakima Humane Society, by local breweries and industry partners. This juicy IPA for Humans features hops generously donated by Haas, and the label features some of our favorite dogs. Well, the labels, actually, since we'll have two different versions featuring different Single Hill pups!
While you're down here, we'll be fundraising for the Yakima Humane Society, and you can pick up a flier for a discounted adoption. Isn't it time you found a(nother) furry friend?
ABV 7.2%. Available at a DROP near you mpw.