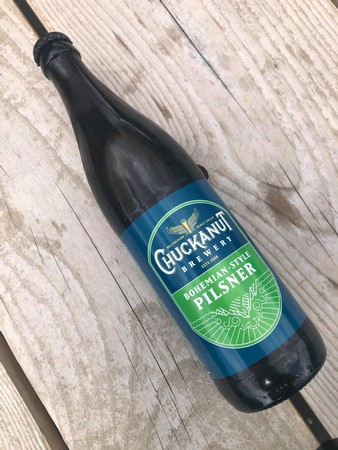 Introducing Mosaic Leaf Pilsner, a new spin on our classic Pilsner recipe. Like Citra Leaf Pilsner we took our traditional Pilsner recipe and replaced some of the classic noble hops with NW American Noble Mosaic hop leaf. Old world hops and new world American come together to create notes of blueberry, tropical fruits and a crispy, spicy bitterness!
Pilsner, the world's most popular style of beer, was invented in Czech Bohemia, perfected in Germany, and turned into flavorless mass-market fizz in America. Chuckanut's Genuine Bohemian Style Pilsner is a thing of beauty; it is delicate, sharp, flavorful, aromatic, and appetizing. Pilsner's cold fermentation leaves the beer clear and bright after its long aging process. High levels of natural carbonation in Chuckanut Pilsner result from the aging process, creating a pillowy white head on top of the golden liquid. Chuckanut Brewery's genuine Bohemian style Pilsner is truly mouthwatering, deeply satisfying, and incomparably refreshing! Chuckanut Pilsner has won two GABF Medals and a Gold World Beer Cup medal!
5% ABV. Available at your local DROP now.