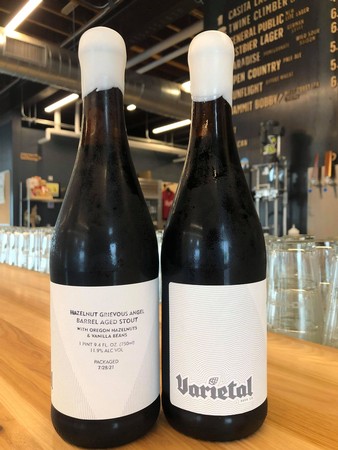 ABV 11.9%. Available at a DROP near you now.
The definition of small batch, this variant of Grievous Angel Barrel-Aged Imperial stout was aged on Oregon hazelnuts & vanilla beans. Only 55 bottles released.
The "base beer" description: In the middle of 2019 we brewed batches of imperial oatmeal stout & imperial milk stout which we set aside to age in spirit barrels. After aging these stouts for 18 months in Woodford Reserve rye whiskey & "Double Oaked" bourbon barrels, we selected barrels for this blend, then set aside the final stout for easy enjoyment. Drinking cold, there is an immediate aroma of dark chocolate & whiskey. Flavors
of vanilla, cocoa & cola, when cold, add complexity as it warms to include anise & leather. It's intense but approachable, with bitterness balanced against the residual sweetness of the beer.