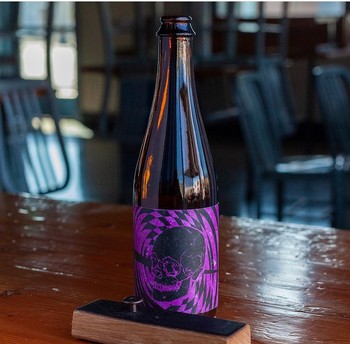 ABV 6.27%. Available at a DROP near you now.
We're capping the Sabbath series with this 6.27% barrel-aged wild ale, refermented on blackberries.
Last year we selected wild ale from our barrel program that had been aging in wine barrels from local wineries for 12-24 months, then refermented the blend in stainless tanks on 400lbs of whole, Oregon-grown blackberries for several months until fermentation ended. Once the beer was ready, it was bottled and allowed to ferment again in the bottle to condition for several additional months.
The finished beer has a bright berry aroma with notes of wild funk thanks to the wild yeast & bacteria that live in our barrels. Mild oak tannins from the barrels are present but do not overwhelm the fruit or disrupt the tart character of the beer.