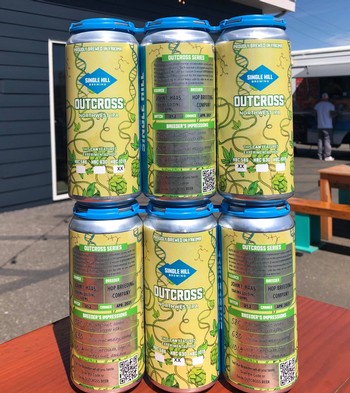 Outcross is here, this time featuring experimental hops from Haas.
Outcross was always going to happen. The Experimenter, our three-vessel split fermenter, was installed at the brewery before we even had a brewing system. Outcross puts the same base beer in each tank, and features a different dry-hop for each finished beer.
Being in Yakima, the world of hops is just outside our door. When breeders have an experimental hop they're working on, eventually you need to put it in beer to see how it tastes. The Haas experimental hops used in this release were even pelletized right here at Single Hill.
In order to express what Outcross is really about, we put it in 3-packs. Yeah, 3-packs. This required us to hand-mix the cases. If only humans had 3 hands, this would have been much easier.